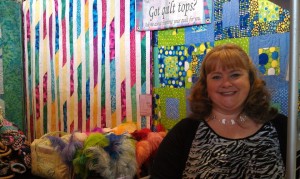 I had such a great time at Unique Boutique this weekend. So many customers came by to say "Hi" and give me a hug or an encouraging word, but one customer especially stood out. She leapt into my booth about 2 hours before the end of the show, and exclaimed, "I've been looking for you everywhere! I've been going to shows all over looking for you. Where have you been?" I was taken aback by the sound of desperation in her voice. Thoughts raced through my head like, "is she mad, did I forget an order for her, did I ruin something of hers unknowingly?" While I bracing myself for the worst, I watch as she reaches into her bag and pulls out the wristlet wallet she purchased from me two years ago.
I flashed back to that day, when she pranced into my booth with the same enthusiasm, raving about how she needs a wristlet like the one I design and sell. (She had no clue that I had really just designed this wristlet for my sister and I was considering dropping them because my sister hated the design.) She couldn't choose any of the ones I had in stock because she needed one in Virginia Tech colors. Instantly I knew that this fellow Hokie "got" me. I went home that day immediately and started planning the wristlet in VT colors. I posted pictures of my progress on my Facebook. I was excited to see her face when I met her in Panera Bread to deliver my special creation to her. Being a Hokie myself I actually made 2 and I kept the one she didn't choose and used it myself.
Fast forward two years, she's back in my booth holding a wristlet that was bulging beyond what I thought possible. The color is more gray than the traditional maroon and orange of VT and the handle has been replaced. To be honest, I wouldn't have recognized it if she hadn't reminded me it was once Hokie colored. Apparently, many months ago, she realized it needed replaced and began attending crafts shows in our area hoping to find me. When we first met I didn't have the following I have now, and I didn't ask customers to "like" my business on Facebook so they can stay aware of the shows I'm doing and the new items I'm designing. She didn't know where to find me.
So, once again, she looks at the few wristlets I have for sale and states that none of them will do because they aren't VT colors, so I agree to make her a replacement. I show her the improvements I have made since her original design was constructed and she is so excited. She may never know that I was again considering dropping wristlets from my inventory. They don't sell fast, they are labor intensive, new phones keep changing sizes so they don't always fit – frustrating customers. I was down to my last 6 and I was either going to have to update the design or stop making them. Once again my customer, Sarah Knight, has saved the original Heidi designed wristlet. As of 2013, I will be constructing a new batch of wristlets, in all variety of colors (including maroon and orange), that will fit the Iphone 5, and will have a zipper pouch for coins. It is a scary thing to put yourself out there and ask the world to judge your work. It taps all your insecurities and makes you feel bare. But when customers come in and love your designs and ask for more, it puts you on top of the world and makes you want to do more. And this is why I love what I do and I love those that "get" me. Thanks to all of you that support me in my dream to sew for a living.
[pinterest]
About the Author
Heidi Hendrix
I began quilting alongside my grandma, Maxine Van Sickle, when I was only 8 years old. Over the last 30 + years I have enjoyed the challenge of new and exciting quilt projects.